Cookie-Einstellungen
Diese Website benutzt Cookies, die für den technischen Betrieb der Website erforderlich sind und stets gesetzt werden. Andere Cookies, die den Komfort bei Benutzung dieser Website erhöhen, der Direktwerbung dienen oder die Interaktion mit anderen Websites und sozialen Netzwerken vereinfachen sollen, werden nur mit Ihrer Zustimmung gesetzt.
Diese Cookies sind für die Grundfunktionen des Shops notwendig.
"Alle Cookies ablehnen" Cookie
"Alle Cookies annehmen" Cookie
Kundenspezifisches Caching
Diese Cookies werden genutzt um das Einkaufserlebnis noch ansprechender zu gestalten, beispielsweise für die Wiedererkennung des Besuchers.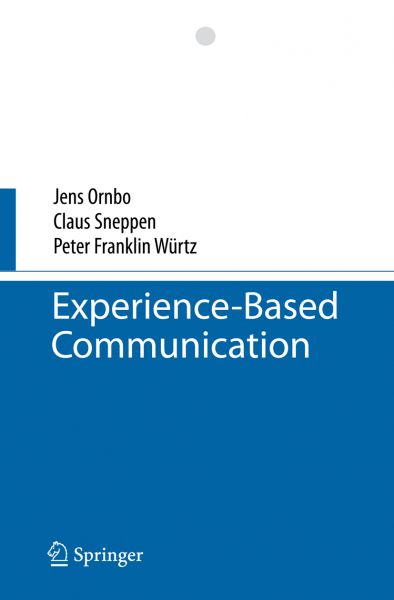 Artikel-Nr.:

9783540787112

Autor:

Ornbo, Jens; Sneppen, Claus; Würtz, Peter Franklin

Verlag:

Springer Berlin

Seiten:

278

Erscheinungsdatum:

24.07.2008

Format:

23,5 x 15,5 cm

Illustrationen:

6 Tabellen, schwarz-weiß, Bibliographie

Produktform:

Hardcover

Auflage:

2008
Experience-based Communication is a powerful tool. Companies can use it to bring their values to...
mehr
Produktinformationen "Experience-Based Communication"
Experience-based Communication is a powerful tool. Companies can use it to bring their values to life and to make their messages accessible and credible. By communicating in a way that can be both sensed and felt, companies can increase their influence on internal and external stakeholders - and existing and potential customers. This book teaches you how to architect the way your company is experienced at every real-life touchpoint. How to use physical meetings and locations to create an affinity with a given market segment. And how to engage your audience mentally, physically and socially in order to transform them into loyal customers and willing ambassadors. If you want to get closer to your target groups, you will find no greater source of inspiration than the methods presented in this book. "Experience-based Communication fills a much-neglected hole of knowledge in the Experience Economy, simultaneously making the point that proper staging and drama can make experiences more, not less, authentic. As the authors make clear, the Experience Medium IS the communicated message. This book is a very valuable addition to the pantheon of the Experience Economy." B. Joseph Pine II and James H. Gilmore, co-authors, The Experience Economy and Authenticity: What Consumers Really Want "I normally dislike business books, and books on communication are often the worst. This book, however, has real personality and is an experience in itself to read. Would that Chief Executives of today's organisations, with their wretched, dismembered, irritating, time-consuming, soul-destroying 'We value your call' systems would spare some of their time to read this book, all our lives would be enriched as a result. It is worth remembering that there are only 100 cents in a Euro, so cost cutting is finite, whereas creating value for customers is infinite and is limited only by our own creativity and imagination. Buy this book. Enjoy it." Malcolm McDonald, Emeritus Professor at the Cranfield University School of Management "The book, Experience-Based Communication, highlights some of the most important issues regarding the embodiment of cultural artefacts and manifestos. The architectural utterance is itself experience-based. Setting the stage for human interaction it adds to both history and social behaviour. Read the book. It is an inspirational source to everyone engaged with experience-based communication!" Mette Kynne Frandsen, CEO and Architect MAA at HENNINGLARSENARCHITECTS "This book is a must-read for marketers seeking to find alternative ways to engage their target audiences in a deeper dialogue in order to build customer loyalty. In a world where the "new influencers" preside over the all important word-of-mouth, brands need to be able to offer enduring and valuable experiences that are capable of transforming ordinary customers into willing ambassadors. Charting a company's experience architecture offers the ability to gauge where they stand and score in their consumers' hearts, minds and most importantly, lives" Joseph Jaffe, President and Chief Interruptor, crayon and author of "Join the Conversation"
Bewertungen lesen, schreiben und diskutieren...
mehr
Kundenbewertungen für "Experience-Based Communication"
Bewertung schreiben
Bewertungen werden nach Überprüfung freigeschaltet.